For 2009 Milan Show EICMA, Husqvarna has prepared many news and surprises for all two wheels fans. Historically, for Husqvarna EICMA means Supermotard and Dual range worldwide introduction, which comes right after Motocross and Enduro models launch held last July and already available at Husqvarna official dealers.
What Husqvarna presents for the very first time this year, it the racing soul of Husqvarna in its urban version: the SM 630.
The most evident gifts of this new motorcycle is the lightness, a key concept of 2010 Husqvarna models, and the easy riding mixed with the power of a 600cc single-cylinder.
Equipped with the new 600cc displacement, the DOHC engine head, injection system assisted by a 45 mm throttle body, the new SM 630 has improved its power of 20% compared to the SM 610. Check out more pics of the new 630
here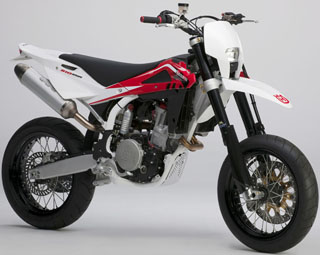 The new
450
and
510 SM
, replicas of supermoto world championship bikes, complete the Husqvarna supermotard range alog with the young of the Varese based Company SM 125, available in two color versions.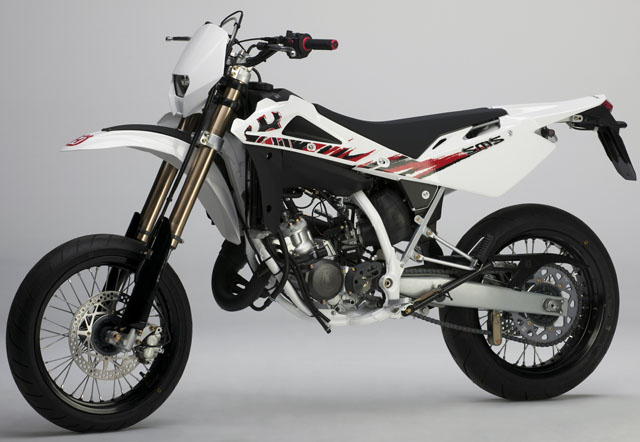 Husqvarna displays also the motorcycles which successfully participated to the major 2009 champinships with factory teams: Antoine Meo's TE 250, Enduro Italian Champion and second placed in the WEC E1 class. Salvini's TC 450, second in the final MX3 World Championship classification. Adrien Chareyre's SM 530RR, 2008 World Champion and on the way to another great victory in 2009 racing season. Finally the TE 450 which led Andrea Mancini to the Rally Italian Championship and Raid Marathon victories.
More pictures of the new models